Launching Wire & Wood: Designing Iconic Guitars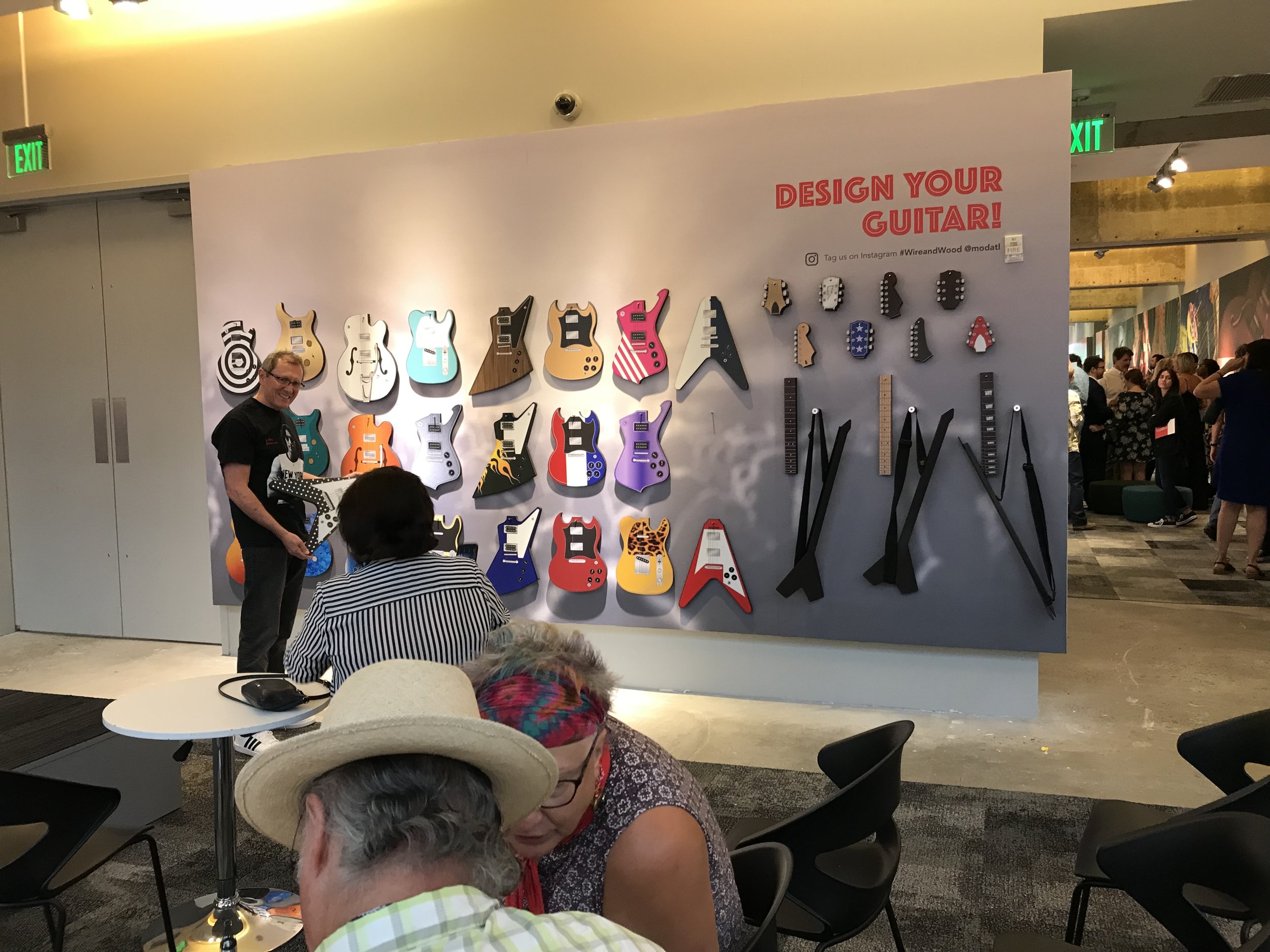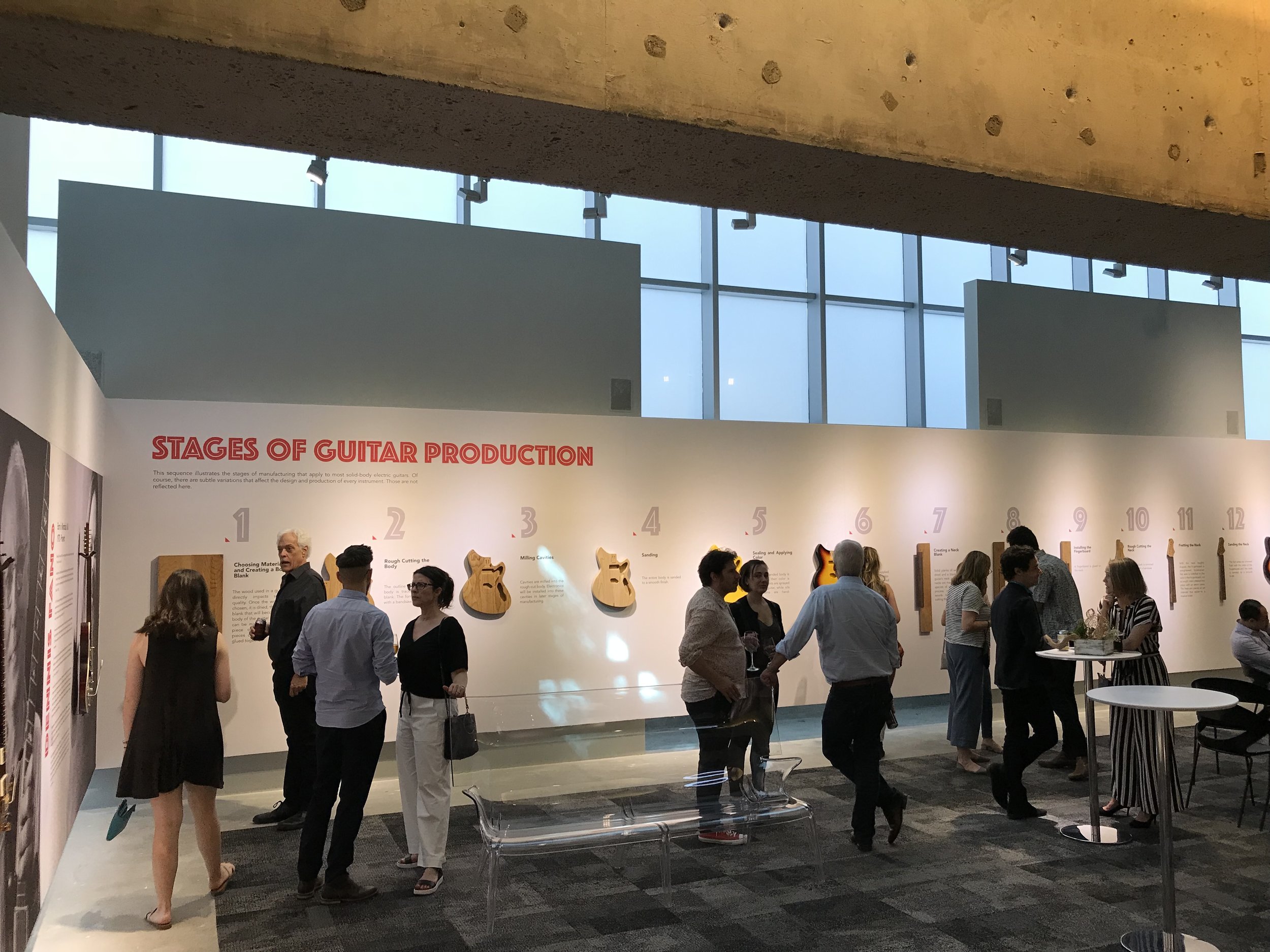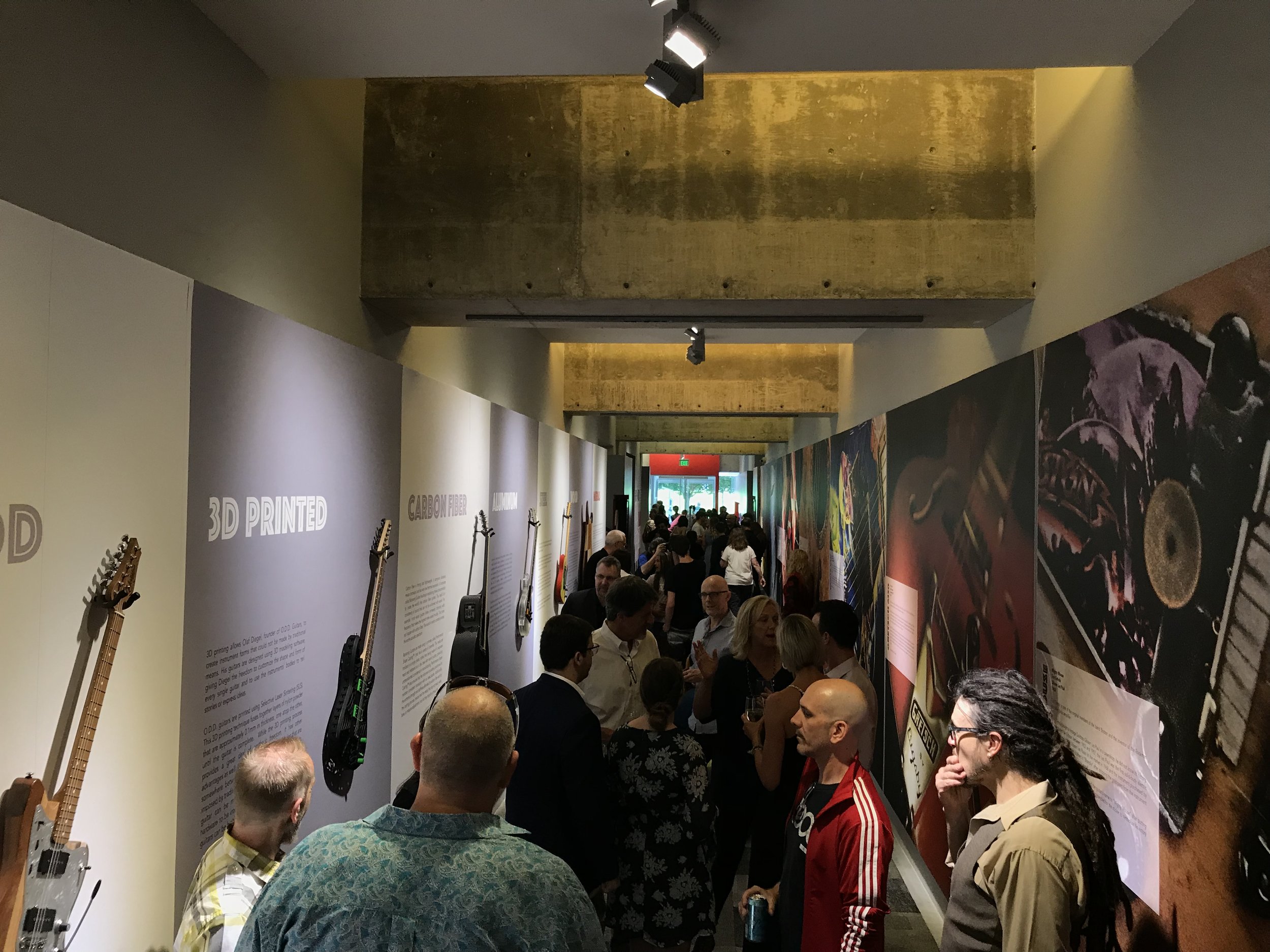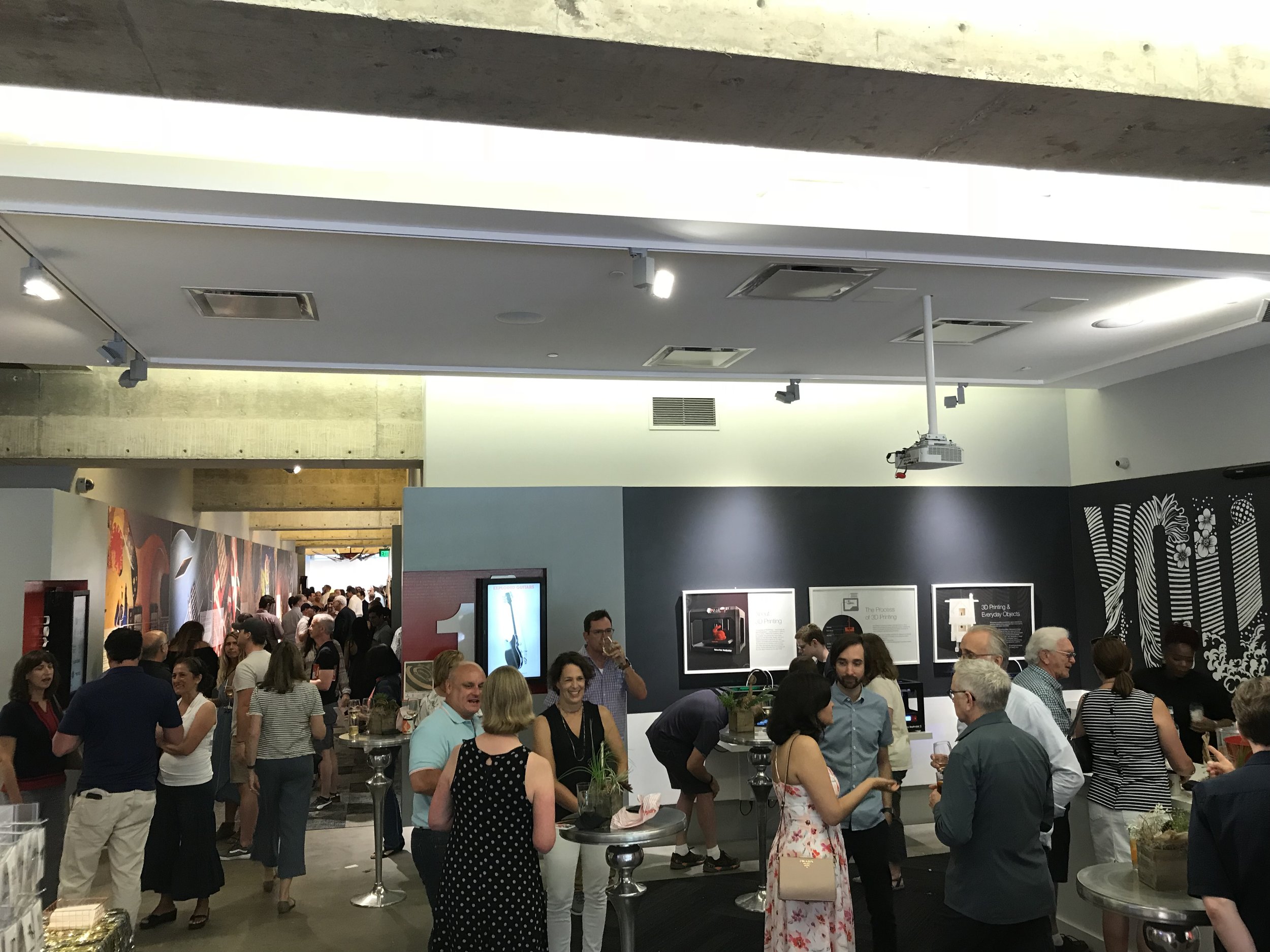 On Saturday, June 29th, MODA and the design community welcomed its newest exhibition: Wire & Wood: Designing Iconic Guitars, curated and produced by W. Todd Vaught and Lisa S. Johnson, his image consultant. This new show explores the fundamentals of guitar design, taking the audience through the guitar-making process step-by-step and exploring the intricacies of the craft, the history of electric guitar design, the technologies and materials used to create the instruments, and how different luthiers approach the task of designing new guitars.
This last question was the focal point of opening night. To kick things off on Saturday, we were lucky to have Paul Reed Smith, esteemed luthier and a major sponsor of the exhibition, give a lecture discussing and celebrating guitar design. Ken Carbone (graphic designer, artist, musician, and friend of MODA) joined Smith on stage as well, first for an impromptu jam session before Smith's talk and then for an interview about design. The audience was also welcomed to ask Smith about his craft and about the various guitars he brought onstage to discuss, and the discussion hit on hot topics like the lasting relevance of guitars in today's increasingly synthesized music scene, working with clients ("When Carlos [Santana] calls, I do what he wants! As fast as I can!"), and whether or not the era of "guitar gods" is ending. By Smith's estimation, it's not. "There's guitar players everywhere," he said, "and we did $60 million wholesale last year." Not too shabby.
Business aside, Smith made it clear that he thinks the iconic status of guitars and his craft are here to stay. We're inclined to believe him, but not just for his impressive credentials; it's because he and his fellow luthiers (like Dennis Fano and the late Leo Fender, also featured in the luthier section of Wire & Wood) know how to make guitars that make good music. He succinctly summed up why guitar design is and always will be important in the music world when he and Ken finished their jam at the beginning of the talk: "At the end of the day, it's about how it sounds." Period.
After the interview, MODA invited guests to head back to the museum and be the first to step foot in the new exhibition and explore the history of guitar design and technology alongside some of the world's most esteemed luthiers over drinks (and popcorn, obviously, because we know what the people really want).
The highlight of the show, however, is right in the title: iconic guitars. Wire & Wood considers how and why some guitars have become icons in the musical world and what role their design plays in achieving that iconic status. We've honed in on 12 iconic guitars and the respective music icons who popularized them, looking at the classic models that have set guitar standards and the unique designs that have broken the mold (and continue to break it). From rock 'n' roll originators to country stars and from grunge heroes to modern rockers, each music icon's guitar tells a story not just about design but also about music and culture at large.
Still need convincing? Check out the list of guitar icons whose instruments we have on display for Wire & Wood:
Bo Diddley

Rich Robinson of The Black Crowes

Jack White of The White Stripes

Steve Vai

James Hetfield of Metallica

Kurt Cobain
St Vincent

Billy Duffy of The Cult

Junior Brown

Orianthi

Derek Trucks of The Derek Trucks Band

Buck Owens
Wire & Wood doesn't just bring guitars and a (pretty cool) history lesson to the table, though. MODA has always valued interactivity and audience involvement in its exhibitions, and this one is no exception. Along with our guitars, murals, and videos on display in the galleries, we also have an interactive Build A Guitar wall in our back gallery where guests can pick from iconic (and brand new!) bodies, necks, and head stocks to design their own unique guitar. And what better place to test out their creations and hone their air guitar skills than on MODA's brand new stage, installed especially for Wire & Wood?
Outfitted with a stage, MODA now has some pretty awesome doors open to it; we've always thought our space had the potential to host performances and events by local artists and musicians, and Wire & Wood has made that dream a reality. We'll keep you up to date about any future performances (pop-up concerts, anyone?), but for now just make sure you have a free night on July 11th—we'll be hosting an open mic night featuring the spoken word group Nobody Likes Us, But We're Here Anyway. (Don't let their name fool you—you'll definitely like them.)
If (who are we kidding—when) you can't get enough of the show, we're thrilled to invite you back for guided tours and other exhibition events. Check below for upcoming events and reserve your spot before they sell out!